Writing a book in Arizona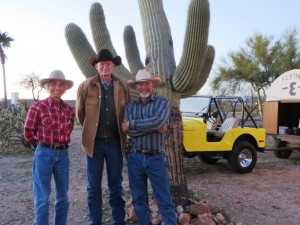 I just returned from two weeks at the Flying E Ranch in Wickenburg, Arizona, where I went to work on my new book. I know the manager and her husband and several of the wranglers pretty well, so when I stepped out of my monk-like existence in the bunkhouse, I had some nice visits with them.
I intended to work on the book and do nothing else, and I did. I have solid, edited first drafts on three of the chapters, the Introduction, and the Preface. The book is very different than anything I've written before because of its topic and its audience. Summarizing the childhood trauma, PTSD, body image, mental health and plastic surgical literatures on body image and why some patients are unhappy is a monstrous task. I am trying to be comprehensive enough for physicians and non-physician mental health professionals, but also accessible enough for patients and families.
The prevalence of childhood trauma (abuse or neglect) in plastic surgery patients is remarkably high: 80% in my practice as of the current data. This factor certainly must impact patients' opinions about themselves, the way they look, the way they live their lives, their adult health, and for some, the drive to have plastic surgery. The story is a compelling one, and I am doing my best to give it justice.