Nashua Plastic Surgeon Awarded Key to the City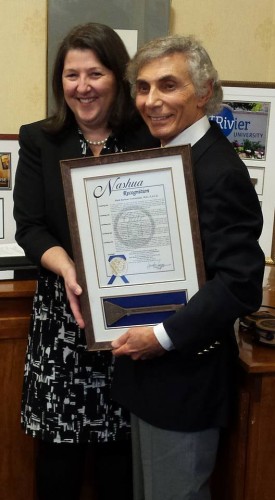 On Friday, December 18, 2015, I received the City Key from Mayor Donnlalee Lozeau at a surprise ceremony at City Hall on December 18, 2015. The citation recognized me "for…leadership and numerous honors; thank you for bringing worldwide recognition to our city." This key was only the twelfth presented by Mayor Lozeau since her election in 2007; she is Nashua's first woman mayor.
I came to southern New Hampshire in 1978 because it was an unserved area. I had no ambitions to develop a subspecialty practice or become well-known; but my desire to produce very good results and my love of teaching has generated a national and then international following. At this point, only one third of our patients come from the greater Nashua area; another third come from the Northeast, and the final third comes from the rest of the country or overseas. We have treated patients from some 30 countries to date in the last 37 years.
Because patients expect a surgical subspecialist to be located in a metropolitan area or at a big medical center, I have gotten frequent inquiries about where Nashua was and why I practiced here instead of Park Avenue. The answer is easy: I practiced here because I loved the city and wanted to raise my family here.
I am overwhelmed by this completely unexpected honor, and very happy that my staff and I have been able to be ambassadors for Nashua. For me, this Key more properly memorializes what Nashua has done for me than vice versa.